Today is December 21, the Winter Solstice. My associate and I continued today on our soulful journey to Denver, through the majestic Rocky Mountains as well as the less-than-majestic Utah deserts.
Our day began snowily in the unplowed parking lot of our Richfield hotel. We ate heartily for breakfast at a local eatery, then hit the I-70 with a vengeance, plowing through Salina on highway that thankfully had already been plowed. The road then took us through a desolate, completely unpopulated, and imposingly beautiful stretch of country towards Green River. Our interstate highway system does poor justice to the truly inhospitable nature of the American West, and as we rushed through the arid landscape I couldn't help but think of the first humans to traverse this demanding landscape. Here, survival is not a given even in this era of cruise control, as we were reminded by a roadside cross at the bottom of an arid mountain grade. The first American Indians, as well as the white Mormon Settlers, did not settle in this land and were lucky to make it out alive. As we crested the top of a mesa, we could see for miles around us the serene red plains, mountains and ridges. A plume of smoke shot up from behind a ridge, an ugly reminder of humanity in this otherwise pristine setting. Fortunately, the factory at the source of this was charitable enough to hide itself behind a ridge of mountains.
Next was Green River, and a significantly less prosewotrhy stretch of desert. But then we crossed the state line into Colorado, and as the Mormon shroud lifted I inexplicably felt the urge to be sinful again. First up was Fruita and Grand Junction, the agrarian hub of western Colorado which some have heartlessly dubbed "Grand Junkyard". As the mountains approached, the crops became more sophisticated, and as we arrived at the foothills we got a closer look at the harvest of Grand Junction's burgeoning vintners. There was even a "Wine Hotel".
The mountains began gradually, and we passed through the towns of Parachute and Rifle, wondering if they had been named by Sarah Palin. We got off in Rifle, and ate lunch at a local pizza place called "Little Caesar's". After that, we continued past the famed hot springs at Glenwood Springs, and through Glenwood Canyon, a canyon that must have been nearly impossible to build a four-lane interstate through. In order to make it work, the engineers had to build futuristic elevated segments. In stark contrast, the train tracks paralleling the road passed through low-tech tunnels; it looked like the seven dwarfs could burst out at any moment.
The road passed through a long valley, past hills dotted with ski resorts. Finally we arrived at Vail, home to millionaires and the Colorado Ski Museum. It looks like no one in Vail had heard the country was going through economic hard times, there were cranes everywhere.
The sky grew threatening and the road grew snowy as we climed Vail pass, but we made it over without incident.
We passed through Dillon and Frisco, a town whose inhabitants get really mad if you call "
San Francisco
". Then we climbed another pass and went through the Eisenhower Tunnel, a massive mountain tunnel disguised as a factory.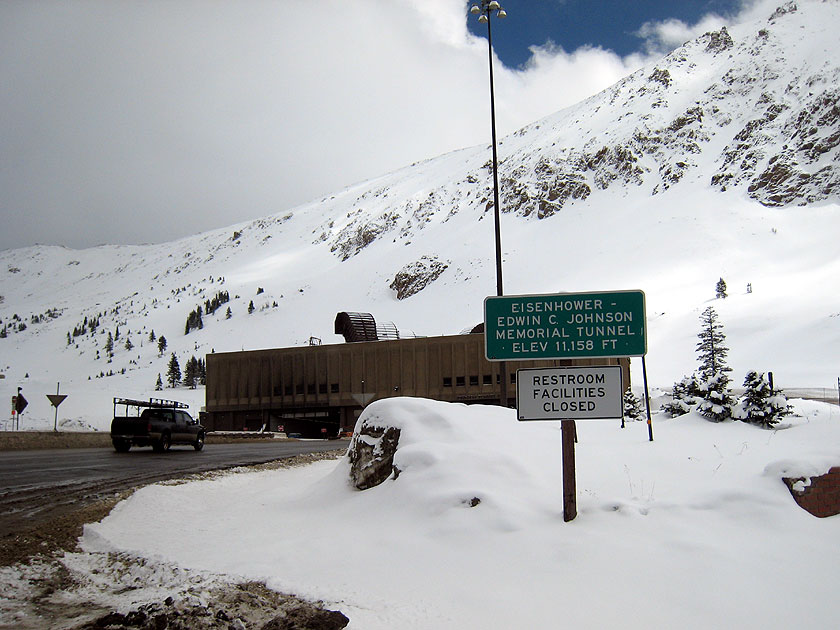 It was all downhill from there, and aside from a short traffic jam we had an easy drive into Denver. Then it was of to our familial compound to eat gingerbread and sip eggnog. Happy holidays from Obamathon Man. Now blogging to you from Denver!