On Saturday, we happily left the backwards back woods of rural Mass, heading for another set of relatives we had closer to Boston. We headed east on route 2, an unusual highway with exceptional glare. So much glare that there are road signs warning you of it, as if you would need a warning sign about glare, or even be able to see the signs if there was any.
We spent the morning catching up with our family. Unlike their rural counterparts, they were enthusiastic about our trip to the inauguration and reveled in hearing our story. We ate lunch at their house, and then left for Boston.
Our relative, a civil engineer, delighted in telling us the history of each bridge we crossed. Most of the bridges were relatively modern, but some were replacements of bridges from the 1800s, or even 1700s. We eventually merged onto the Mass Pike, and as we got closer to Boston he pointed out a giant billboard calling for greater regulation at gun shows; apparently, this was a contested issue in Massachusetts.
We needed gas, and somehow we ended up refueling in South Boston. Our relative affectionately referred to the area as "Southie", and the Victorian houses and nearby bridges and bays reminded me of San Francisco. He told us about the troubled history of the area. "Lots of Irish people live here", he told us, "but they were racist and fought against integration in the 70s". I was reminded of a
photograph
I had seen in an American history class, of a white Bostonian trying to stab a black man with an American flag.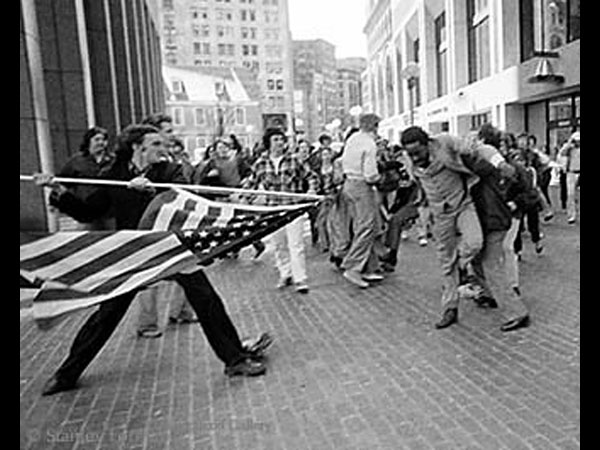 However, it seems Boston may have emerged from that darker period of its history. By all accounts, Bostonians were as happy as anyone after Obama's inauguration. We stopped for coffee at a starbucks closer to Downtown Boston, and a mixed-race crowd contentedly sipped their coffees without stabbing each other with flags.
We parked near our relative's office, and waited to catch the "Silver Line" - a bus that ran on its own underground road - into the center of town. Boston is home to the famous "Big Dig", which moved miles of urban interstate below ground and as a consequence required a number of ventilation towers throughout the city. The towers are a bit annoying, but not nearly as annoying as an eight-lane highway running through the center of town.
Eventually the bus arrived, and we rode it to the Red Line subway. Boston's subway is referred to as the "T", and is the
oldest subway in the US
. As a result, some of the stations are kind of funky. We got off near the Boston Common (basically a big park) and walked west to Back Bay, a classy neighborhood. We passed by the Hancock Center, Boston's Main Library, and eventually ended up at the world Christian Science Center. It was a nice walk, but unfortunately we had to turn around since my associate's flight was leaving in a couple of hours.
We headed back to the car. Fortunately, Boston's Logan Airport is relatively close to the center of town and we were there in 15 minutes. My associate checked in without difficulty and found time to scarf a burrito before heading to the gate. Before he headed out, we took time to marvel at the large number of propeller planes at Logan, ready to shuttle affluent Bostonians to Martha's Vineyard or other luxurious island retreats nearby.
So my associate left, leaving me without anyone to associate with. We had some fun, made history, and got in a few arguments too. But I was happy to have him around, and I wished him a safe flight. The sun was setting as my relative and I drove back to his house, and the skyline of Boston was silhouetted against the orange sky. I thought back to our first day on the road, all those months ago. It was the end of a great excursion.